Explained Invisalign Treatment From Start to Finish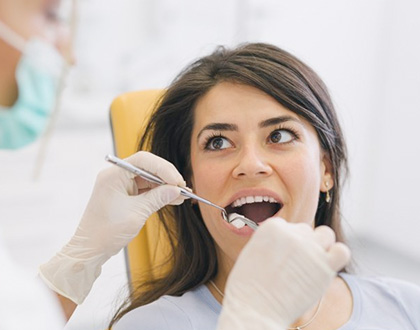 How Exactly Does Invisalign Treatment Work?
Weiler Orthodontics explains what you need to know about Invisalign treatment.
The idea of a beautifully straight smile and properly functioning bite is appealing to many, but the idea of having a mouth full of metal may not be. Luckily, there are more options for discreet orthodontic treatment than ever before. Patients everywhere love Invisalign because it is virtually invisible and removable. But how does it work?
Harrisonburg Invisalign and clear aligner systems as it works by using a series of removable aligners that fit over the teeth. Your set of aligners will each be calibrated to achieve a certain movement during your treatment. By wearing them in the proper order and for the proper amount of time, your end result will be a straighter smile and healthier bite.
Your Harrisonburg orthodontics treatment begins with a consultation at Weiler Orthodontics. We'll take computer-generated images of your mouth. These will be used to craft your Orthodontics treatment in Harrisonburg plan and design your custom aligners. This ensures treatment designed specifically for you and your unique issue.
The 3D images we take help us understand what your teeth look like today, but also what they will look like as your treatment progresses. We can even see what your end result will be, so you'll know what you're working toward.
Harrisonburg Invisalign aligners are made of smooth, BPA-free plastic. They are designed to be comfortable because there are no brackets or wires to irritate the inside of your mouth. The plastic is almost virtually invisible, so you'll have a high level of discretion throughout your treatment. And the best part is, the aligners are removable. That means you don't have to make adjustments to your diet or add extra time to your oral care routine. You'll simply pop out the aligners when eating, brushing, and flossing.
It's important to follow your treatment plan exactly as designed by your orthodontist. Each set of aligners will be worn for approximately 22 hours a day for two weeks before moving on to the next set in your series. This is important because each set is designed to achieve a certain type of movement. If you move to a new set too soon, you may be altering your treatment plan.
Invisalign aligners are very high-tech – the thermoplastic design controls the force used, as well as the timing of that force. This means your teeth will move at the proper time to align correctly. This ensures your ideal bite and smiles once treatment is completed.
Just as with any other type of orthodontic treatment in Harrisonburg, there are some rules to follow. This ensures a smooth experience.
Remove your aligners before eating or drinking anything but plain water. Chewing with your aligners in can damage them, and trap bacteria against your gumline. Hot beverages can warp the plastic, and certain foods and drinks can stain the aligners.
Wear the aligners exactly as directed by your

Harrisonburg

orthodontist. This will ensure your treatment stays on track. Because the aligners are removable it can be tempting to leave them out, especially if you have a big occasion coming up. But once you start doing it, it becomes easier and easier to find excuses to take them out. And that will only lengthen your

Harrisonburg

orthodontic treatment time.
Take proper care of your smile and keep your dental check-ups. Taking proper care of your teeth and your aligners is important to successful treatment. Brush and floss regularly, and follow care instructions for your aligners. Keep regular check-ups with your dentist, too, to ensure your teeth remain healthy throughout treatment.
Call

(540) 217-4986

 today to schedule a free consultation or 

request an appointment
. We look forward to helping you clearly transform your smile. 
Invisalign is an excellent option for many orthodontic patients. To determine if it is the right treatment for you, schedule your complimentary consultation with Weiler Orthodontics today.